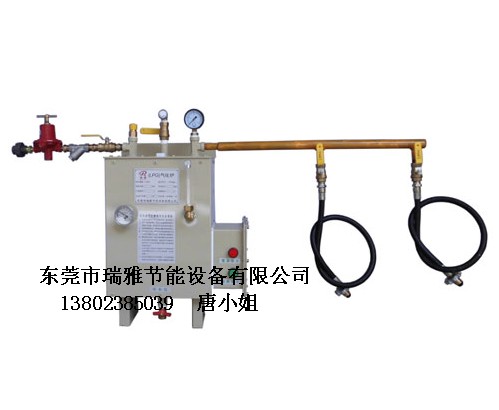 Electric heating gasifier
Product model: RYEX-20KG
Product introduction: Factory gas boilers, restaurants, hotels, schools, canteens, hardware, painting, glass factories, and other gas-intensive places
Ruiya gasifier is a device for forced gasification of liquid gas such as liquefied petroleum gas and propane. It is suitable for gas supply in industrial factories, mines, residential quarters, kitchens in the catering industry, baking, baking paint, and large-scale greenhouse heating and gas supply systems. It can well solve the phenomenon of a large amount of liquefied petroleum gas (gas) residues in steel cylinders and frosting, icing and freezing of pipes, ensuring continuous gas supply.
First, the characteristics of Ruiya gasifier:
1. This furnace is easy to operate, convenient to maintain and affordable.
2. The gasifier process structure is sturdy and durable, and has anti-corrosion performance.
3. Float valve device can prevent liquid from seeping out through the pipeline.
4. The safety pressure relief valve can automatically discharge the overpressure gas and then close it automatically.
5. Two-level electronic temperature controller, automatic adjustment of water temperature from 50 to 70 degrees, stable air supply.
6. Low water level protection control circuit to ensure that the heating element is burned due to lack of water.
Technical characteristics of the gasifier:
1. Design pressure: 2.7MPa (27kg / cm2);
2. Hydraulic test pressure: 3.3MPa (33kg / cm2)
3. Airtight test pressure: 2.7MPa (27kg / cm2);
4. Safety valve opening pressure: 1.76MPa (17.6kg / cm2);
5. Working temperature: 50 ℃ -80 ℃.
Third, the use of gasifiers:
1. Piping: Carefully read the text marked on the gasifier furnace body, whether the liquid phase inlet and gas phase outlet are connected to the corresponding pipeline.
2. Water injection: Add pure distilled water or pure water without impurities to the water injection point marked on the gasification furnace body until the overflow pipe mouth at the bottom of the furnace body overflows.
3. Power supply: This furnace type does not have an electric control box. Open the riot compartment cover on the furnace body directly, and enter the power cord through the wiring port on the furnace body.
4. The thermostats, relays, heating pipes, etc. in the cover have been adjusted before leaving the factory. Non-professionals are not allowed to move at will.
5. Close and tighten the open explosion-proof cover.
Fourth, installation size technical parameters
| | | | | | | | | | |
| --- | --- | --- | --- | --- | --- | --- | --- | --- | --- |
| specification | Power | Voltage | length | width | height | Entrance to the night | Air outlet | Working pressure | Installation method |
| 20kg / h | 3KW | 220V | 400 | 260 | 660 | DN15 | DN15 | 1.76MPa | Wall-mounted |
| 30kg / h | 3KW | 220V | 430 | 300 | 780 | DN15 | DN15 | 1.76MPa | Wall-mounted |
| 50kg / h | 5KW | 380V | 520 | 340 | 820 | DN15 | DN15 | 1.76MPa | Wall-mounted |
| 50kg / h | 8KW | 380V | 560 | 360 | 980 | DN20 | DN20 | 1.76MPa | Floor-standing |
| 100kg / h | 15KW | 380V | 640 | 390 | 1160 | DN25 | DN25 | 1.76MPa | Floor-standing |
| 150kg / h | 20KW | 380V | 750 | 420 | 1230 | DN25 | DN25 | 1.76MPa | Floor-standing |
| 200kg / h | 27KW | 380V | 800 | 470 | 1350 | DN32 | DN32 | 1.76MPa | Floor-standing |
| 300kg / h | 36KW | 380V | 950 | 480 | 1400 | DN40 | DN40 | 1.76MPa | Floor-standing |
| 400kg / h | 40KW | 380V | 950 | 480 | 1400 | DN40 | DN40 | 1.76MPa | Floor-standing |
| 500kg / h | 54KW | 380V | 1000 | 500 | 1600 | DN40 | DN40 | 1.76MPa | Floor-standing |
Release time: 2017/9/25 0:00:00